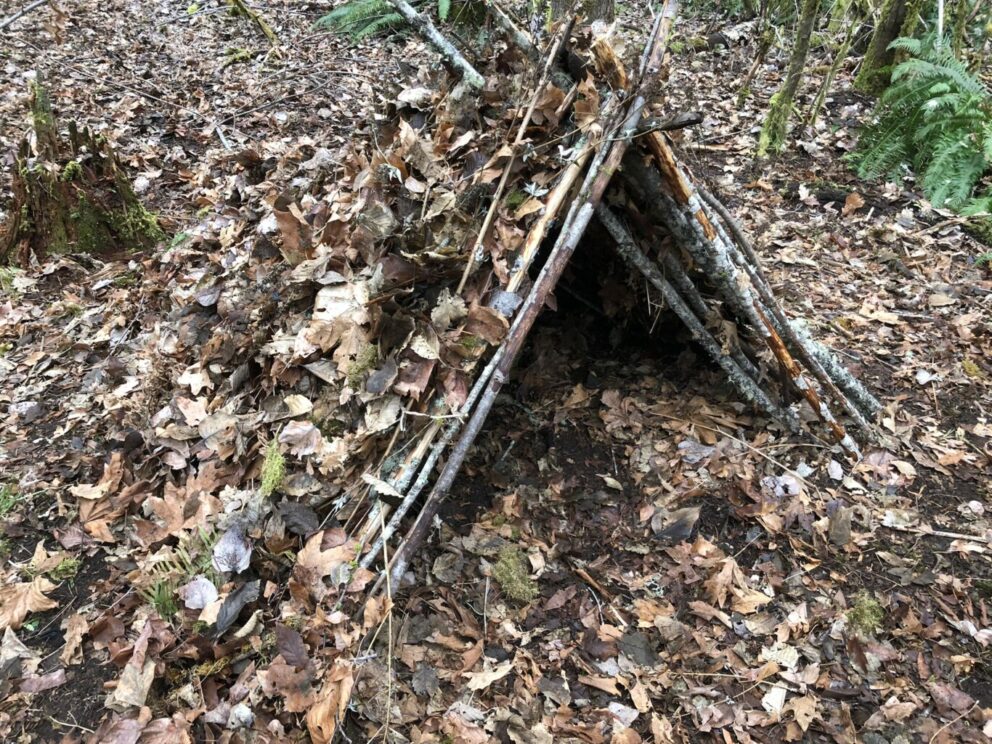 Basic wilderness skills are helpful not necessarily for surviving in the wilderness but to not get into a survival situation in the first place. Learn to be aware of what's happening around you on nature's terms, and ways to make it through until help arrives. Learning the skills of our ancestors – shelter, water, fire, food – is an empowering experience that can increase comfort in nature and bring appreciation for the skills that have kept humans alive up until the present day. 
Workshops do not include emergency first aid.
Available by Request: Skills can be booked separately.
Bird language and tracking – Listening to the birds and watching for animal signs opens up a whole new world. By learning to tell when the birds are relaxed or anxious, you can start to read what's happening just out of sight. 
Shelter – Learn to manage warmth through the principle of air pockets. Practice building a "debris hut" with downed branches and leaf duff. 
Water – Read the landscape for water and practice using purification tablets, solar stills, and boiling water with rocks. 
Fire – Friction methods to create fire are not easy but are immensely rewarding. Learn to carve a bow drill fire kit and build a fire safely.
Food – Knowing when and where to find a few edible plants at different times of year can help lift your energy and spirits up. 
Train the Trainer – Introduce your school staff to basic nature skills to share in turn with your students. Only available with an overnight session to gain lived experience of sleeping in a debris hut.    
WORKSHOP DETAILS
Objectives: Learn to read your surroundings, survival priorities and hazards, learn to build a temporary shelter, purify water, forage for food, and make preparations to not get lost in the first place.  
Primary audience: Ages 7 to 18
Location: Columbia River Gorge. Contact Rae to book a custom experience at a place near you.
Ability: Most places require walking on uneven ground.
Duration: Varies by group, generally 2-3 hours per topic. 
Price: Negotiable
Community agreements: Kindergarten rules apply in shared spaces. Please bring your whole self – giggles, tears and all – but you will be dismissed or sent to quiet time if the potential for harm to others arises. We value restorative practices including relationship, respect, responsibility, repair, and reintegration for both our human and plant communities. Reading Nature proudly welcomes marginalized parts of ourselves including LBGTQIA+, neurodivergent and BIPOC identities.